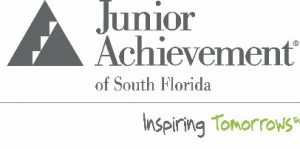 For Immediate Release  
For More Information Contact:  
Christopher Miller, Marketing Manager 
Junior Achievement of South Florida 
(954) 979-7110  
Christopher@JASouthFlorida.org  
JUNIOR ACHIEVEMENT OF SOUTH FLORIDA ANNOUNCES NEW BOARD MEMBERS AND EXECUTIVE COMMITTEE 
Junior Achievement of South Florida, the go-to expert for entrepreneurship, work readiness, and financial literacy programs for 50,000 students in Broward and south Palm Beach counties, welcomes its newest Board Members, and its Executive Committee for 2020-2021. 
Congratulations to the following community leaders on their election to JA's Board of Directors: 
J

eni Chokron

, Senior Commercial Relationship Manager

 

& Broward Commercial Team Lead, First Horizon

 

Jessica Lerner

, President and CEO, Community Care Plan

 

John Goff

, 

Vice President, 

Retail Operations, 

Miami Division

,

 Publix

 

Kenneth 

deBritto

, CEO, 

AiMediaGroup

 

Kim Swears

, Managing Partner & Owner, FB Marine Group

 

Major Kevin Granville

, Broward Sheriff's Office

Michelle Martinez Reyes

, Chief Relations Officer, Kell

e

y 

Kronenberg

 

Sunem Beaton-Garcia

, Campus President and Vice Provost, Academic Services, Broward College North Campus

 
Serving on the Executive Committee and Committee Chairs are: 
Andrew Koenig

,  Board Vice Chair –

CITY Furniture

 

Bob Birdsong

, Governance Committee Chair – OK Generators

 

Brandon Hensler

, Marketing/PR/External Affairs Committee Chair – Nova Southeastern University

 

Brenda Horner

, CEO Compensation Committee Chair – Consolidated Credit Solutions

 

David Greenberg

, Innovative Initiatives Committee Chair – Greenberg Capital

 

Franki Schmidt

, 

Secretary –

 American Express

 

Joel D. Mayersohn

, 

Treasurer, 

Finance Committee Chair – Dickinson Wright

 

Mark Walter

, Audit Committee Chair –

 

The Legacy Companies

 

Meaghan Ryan

, Programs Committee Chair – Seminole Gaming

 

Tim Hogans

, Community & Government Affairs Committee Chair – NextEra Energy/ FPL

 

Tim Rubin,

 Board Chair, Executive Committee Chair 

–  Kaufman

 Rossin & Co.

 
JA's Board of Directors is composed of 72 local community leaders with a strong and balanced blend of skills and experiences and who provide guidance to the JA staff and support the mission. 
"We are proud to have such a strong, forward-thinking and committed Board who exemplify our mission of training the next generation of business leaders, employees and consumers. This group of dynamic leaders understand our goal to bridge the skills gap of today's students seeking tomorrow's jobs and teach essential financial literacy skills to prepare our youth for any situation in life so that they have a better future," said Laurie Sallarulo, President & CEO of Junior Achievement of South Florida. 
In addition to serving on several committees, JA's Board of Directors also volunteer their time planning and implementing fundraising events and networking opportunities. Learn more about the JA Board of Directors at www.jasouthflorida.org/board-of-directors.  
"Congratulations to the newest members of our Board of Directors. Despite what obstacles are thrown our way, I look forward to another prosperous year helping Junior Achievement become a thought leader and solution provider in our greater community," said Tim Rubin, Board Chair. 
 About Junior Achievement of South Florida 
Junior Achievement of South Florida (JA) inspires and prepares youth to succeed in a global economy. JA provides real-world training in financial literacy including budgeting, spending, investing and the use of credit; offers cutting-edge skill-building opportunities that enable young people to explore meaningful, productive careers; teaches students how to start businesses; and introduces entrepreneurial values that strengthen workplaces. Last year, with the help of over 7,100 trained corporate and community volunteers, JA delivered over 20 various programs to almost 50,000 students in classrooms throughout Broward and south Palm Beach counties and at JA World Huizenga Center at the Lillian S. Wells Pavilion, a first-class facility housing JA BizTown and JA Finance Park. For more information about Junior Achievement of South Florida, visit www.JASouthFlorida.org. Follow JA on social media @jasouthflorida. 
### 
Pictured above: Junior Achievement of South Florida's newest Board Members (left to right, top row) Sunem Beaton-Garcia, Jeni Chokron, Kenneth deBritto, John Goff, Major Kevin Granville, Jessica Lerner, Michelle Martinez-Reyes and Kim Swears.