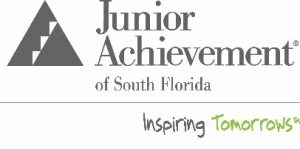 For Immediate Release 
For More Information Contact:
Christopher Miller, Marketing Manager
Junior Achievement of South Florida
(954) 979-7110 
Christopher@JASouthFlorida.org 
JA has another successful year of providing internship opportunities for local high school students
Junior Achievement of South Florida (JA) just completed another summer of providing 57 JA-trained interns job opportunities with 26 South Florida businesses. The overall goal of the program is to prepare today's youth for tomorrow's careers by bridging the gap from education to employment.
"Junior Achievement is a solution provider in our community. Employers need to hire qualified, talented young professionals who are well trained for an always evolving workforce. JA is preparing our students to be the most responsible consumers, the most productive employees and business owners that will create jobs to better our economy," said Laurie Sallarulo, Junior Achievement of South Florida President and CEO.
Prior to their internships, students participate in the JA Career Bound and JA Fellows Entrepreneurship programs, which teach high school students the necessary skills to succeed in today's workforce.
JA Career Bound includes a retreat, programs days focused on discovering specific industries, learning from top executives who share their professional journey to success and culminates in summer employment opportunities. Skills taught include critical thinking, collaboration, creativity, public speaking, communication, interviewing for a job and establishing career goals.
JA Fellows is the go-to business incubator where students gain real-world business experience by working in groups of 20-25, conceptualizing, capitalizing, and managing their own small businesses.
"This program is amazing. I've learned so many things, including writing a good resume, what I'm supposed to wear for a job interview and other helpful skills. I don't think I would have gotten this internship if it wasn't for this program. I feel more confidence and am better prepared for future opportunities," said Estalaura, summer employee with Winterfest Inc.
Running from June to August, the Summer Youth Employment program matches trained interns with a company in each student's industry of preference. Employers interview the students to guarantee a perfect match. Each employer provides 3-5 weeks of meaningful work and proper training so both parties can maximize on this opportunity. Thanks to generous funding from The Frederick A. DeLuca Foundation, JA helps pay the wages for some interns.
"It's a win-win partnership. The students gain work experience, future opportunities and build a strong network of professionals. Employers build and enhance their brand, invest in the next generation of leaders and ensure a pipeline of qualified, prepared employees in the future," Sallarulo said.
In addition to internships, students have access to 13 job coaches from Ameri Corps and 30 business mentors. Since their internships, six students have been offered to continue the employment after the summer. They are Taylor with The Humane Society of Broward County, Jayden with Allied Kitchen and Bath, Ella with Latin2Latin, Faedia with CrewFacilities.com, Nancy and Lianet with State Farm.
"This amazing internship has opened my eyes to new experiences and future opportunities. I've learned more about nonprofit organizations, and at The Humane Society, how to care for animals," Taylor said.
"As employers and organizations, it's part of our duty to give back to the community. I think the Summer Youth Employment program is a great opportunity to give back not only to the community, but also to those students who are going to be graduating soon," said Mili Orsini Peluso, Chief Operating Officer at Centuric.
For more information on how you can host a trained student intern for next summer 2022, contact Anna Khaver, Youth Employment Manager, at (954) 979-7106 or email Anna@JASouthFlorida.org.
 About Junior Achievement of South Florida 
Junior Achievement of South Florida (JA) inspires and prepares youth to succeed in a global economy. JA provides real-world training in financial literacy including budgeting, spending, investing and the use of credit; offers cutting-edge skill-building opportunities that enable young people to explore meaningful, productive careers; teaches students how to start businesses; and introduces entrepreneurial values that strengthen workplaces. Last year, with the help of over 7,100 trained corporate and community volunteers, JA delivered over 20 various programs to almost 50,000 students in classrooms throughout Broward and south Palm Beach counties and at JA World Huizenga Center at the Lillian S. Wells Pavilion, a first-class facility housing JA BizTown and JA Finance Park. For more information about Junior Achievement of South Florida, visit www.JASouthFlorida.org. Follow JA on social media @jasouthflorida. 
 ###