JA BOWL-A-THON
Date(s) TBD, 2020
Junior Achievement of South Florida's annual Bowl-A-Thon is a great opportunity to get your friends, co-workers and family together to have a great time while also raising money for JA programs!
ULTIMATE NIGHT OUT
Date TBD, 2020
The Ultimate Night Out is camaraderie at its finest. Join Junior Achievement of South Florida at this exclusive gathering featuring fine wine and spirits, premium fare, casino games, live and silent auctions, a cigar lounge and networking opportunities. Over 200 top-level executives attend this exciting event each year.
JA WORLD UNCORKED
January 16, 2021
The 10th Anniversary of JA Circle of Wise Women's Signature Event, JA World Uncorked, was a major success! Tickets are on sale NOW for the 2021 food, wine and spirits festival at $150 per person. Buy them early, as this event sells out each year.
LIGHT UP THE NIGHT
Date TBD, 2021
Join us for an evening of great networking as we celebrate south Palm Beach entrepreneurs and innovators. It will be held at the beautiful The Addison in Boca Raton.
SPARK TANK FINALE
May 9, 2020
See the next generation of CEO's and meet JA's budding entrepreneurs! Twenty-one high school student-led companies, mentored by volunteer business professionals, are participating in JA Fellows, Junior Achievement's pinnacle business, entrepreneurship, and leadership program for 9th – 12th graders. Join us as the top 7 teams compete at JA Fellows Spark Tank Finale. Local winners have the chance to compete nationally for scholarships and prizes.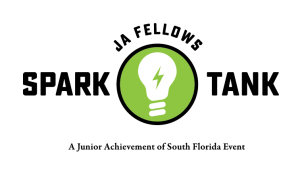 JA BUSINESS HALL OF FAME
Date TBD, 2020
Since 1981, Junior Achievement of South Florida has inducted a group of local business and community leaders who demonstrate business excellence, courageous leadership and community responsibility. In addition to the Business Hall of Fame Laureates, JA presents the Melissa Aiello Character Award and Huizenga Lifetime Legacy Award.
MARTI HUIZENGA ROLL UP YOUR SLEEVES AWARDS
DATE TBD, 2020
The Marti Huizenga Roll Up Your Sleeves Award was established in 2009 at the official opening of the JA World Huizenga Center at the Lillian S. Wells Pavilion. This award has been given to individuals & partners who have gone above and beyond to help Junior Achievement of South Florida achieve its mission. It was named in honor of Marti Huizenga – a philanthropist, a change agent, a visionary, a volunteer – who was a strong supporter of the vision to bring a world-class JA facility to South Florida.
ROSÉ SOIRÉE
SAVE THE DATE: September 16, 2020
Wear your favorite shade of pink, and join us as we kick off the summer! Rosé Soirée brings together women philanthropists, business leaders, and community builders. These remarkable Wise Women will unite to celebrate our WOW (Woman of Wisdom) and will award our JA Girls Scholarship Fund to benefit young women who participate in the JA high school programs. This event also serves as the pinning induction ceremony for new Circle of Wise Women members.
Events