ROSÉ SOIRÉE
September 14, 2023 – 4:30-7:00 PM
Rose Soiree celebrates "Wise Women" in our community while networking, shopping and sipping Rosé.  This chic event brings together women for conversation on empowering women and building the future we want.
ULTIMATE NIGHT OUT
November 13, 2023 – 6:30-10:00 PM
The Ultimate Night Out is camaraderie at its finest. Join Junior Achievement of South Florida at this exclusive guys gathering featuring all the things men love – fine wine and spirits, premium fare, casino and live and silent auctions and a cigar lounge. 
JA WORLD UNCORKED
Saturday, January 27, 2024 – 6:30-10:30 PM
This delightful food and wine festival, hosted by the JA Circle of Wise Women features many of South Florida's finest food establishments and a selection of domestic and international wines, specialty drinks and craft beers. Enjoy live music and dancing, raffles and more! 
GIRLS RULE: IGNITE YOUR SUPER POWERS
March 14, 2024
The Girls Rule – Ignite Your Superpower event connects hundreds of high school girls with powerful women who have a passion to transform future generations. This event is attended by students with limited opportunities to be influenced and mentored by industry-leading women role models within their respective communities. Throughout the event, these students will engage with inspiring and exciting keynote speakers, participate in breakout sessions led by experienced women leaders, attend a fashion show luncheon and receive swag for long-lasting memories! Sessions will include discussions like self-care, discovering your superpower/passion, finding a meaningful career, goal setting, the value of mentors, how to stand out from the pack, the power of resiliency, etc.
The Girls Rule – Ignite Your Superpower Celebration event begins with lunch and keynote speaker Rachel McKenzie sharing her story of being her own successful entrepreneur, stepping out of the light of her "Super Bowl Champion" husband to find her passions, and she has MANY! The event continues with a fashion show featuring 15 of our students dressing for success alongside their mentors. Immediately following the fashion show and luncheon, the Celebration continues with a champagne toast and networking for our partners, speakers and facilitators. Join us to connect around a shared vision of transforming our future generation of young women.
SPARK TANK FINALE
April TBD, 2024
JA Fellows Spark Tank Finale is the culminating event of Junior Achievement of South Florida's 8 month long high school entrepreneurship program. The top company teams will compete for the coveted title of "JA Company of the Year".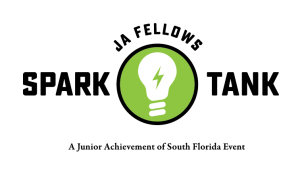 JA BUSINESS HALL OF FAME
April 19, 2024
Since 1981, Junior Achievement of South Florida has inducted a group of local business and community leaders who demonstrate business excellence, courageous leadership and community responsibility. In addition to the Business Hall of Fame Laureates, JA presents the Melissa Aiello Character Award and Huizenga Lifetime Legacy Award.
BOOKS, BUCKS & BACKPACKS
May 20, 2023
Junior Achievement of South Florida is joining forces with education partners, local businesses and healthcare providers for the Books, Bucks & Backpacks initiative to spread reading, financial and health literacy to children and families.
Events